All fabrics are different; they all require special care to make the clothes last and look like new for a long time. All in all, this is beneficial not only for us and our clothes but also for the nature — there have been already way too many environmental problems. This is one of the reasons why we care so much about quality.
We are going to tell about Lacoste fabric from which we make our polo some other time. Today we'd like to tell about three basic fabrics our warm clothes are made from — three-cord thread, two-cord thread and fleece.
Three-cord thread fabric is a dense and warm fabric from which we make our hoodies, sweatshirts and kids' trousers. This cotton knitwear fabric is one of French terry varieties: it contains firm French terry thread. The front and reverse sides are completely different: the front side is smooth, and the reverse side is a kind of fuzzy. That's why the three-cord thread fabric is warm, smooth and long-lasting; it preserves its shape well. Thanks to these qualities we opt for this material for making our clothes. 
The thing that makes the three-cord thread fabric we use to sew our warm clothes special is that it is mostly brushback fabric. It has shorter nap from the inside (in fact, that's why it's called brushback). It is more practical; it bobbles less (i.e. there develop less pills). The only drawback is short-term micro nap shedding. In other words, if you put on a light T-shirt with a darker hoodie or sweatshirt, it will seem as if the T-shirt gained the color of the hoodie. This is a short-term issue that vanishes after the first wash, and the shed nap can be easily collected with a lint roller.
Two-cord thread fabric is the material from which we make our adult long sleeves. This is also a cotton knitwear fabric but slightly different. It is less warm but more stretchable as it contains elastane threads. It provides not only a slight effect of stretch but also makes the fabric less prone to wrinkles, and, for sure, this is a benefit. 
Fleece is the last but not least material in our toolkit; our kigurumi (overall pajamas) are made from it. This is a super warm fabric; it is synthetic and long-lasting. It also drains away sweat — that's why a lot of hiking garments which are intended to warm you up are made of fleece. A contemporary alternative to wool. 
So, how to take care of clothes made from these fabrics? What is common and different?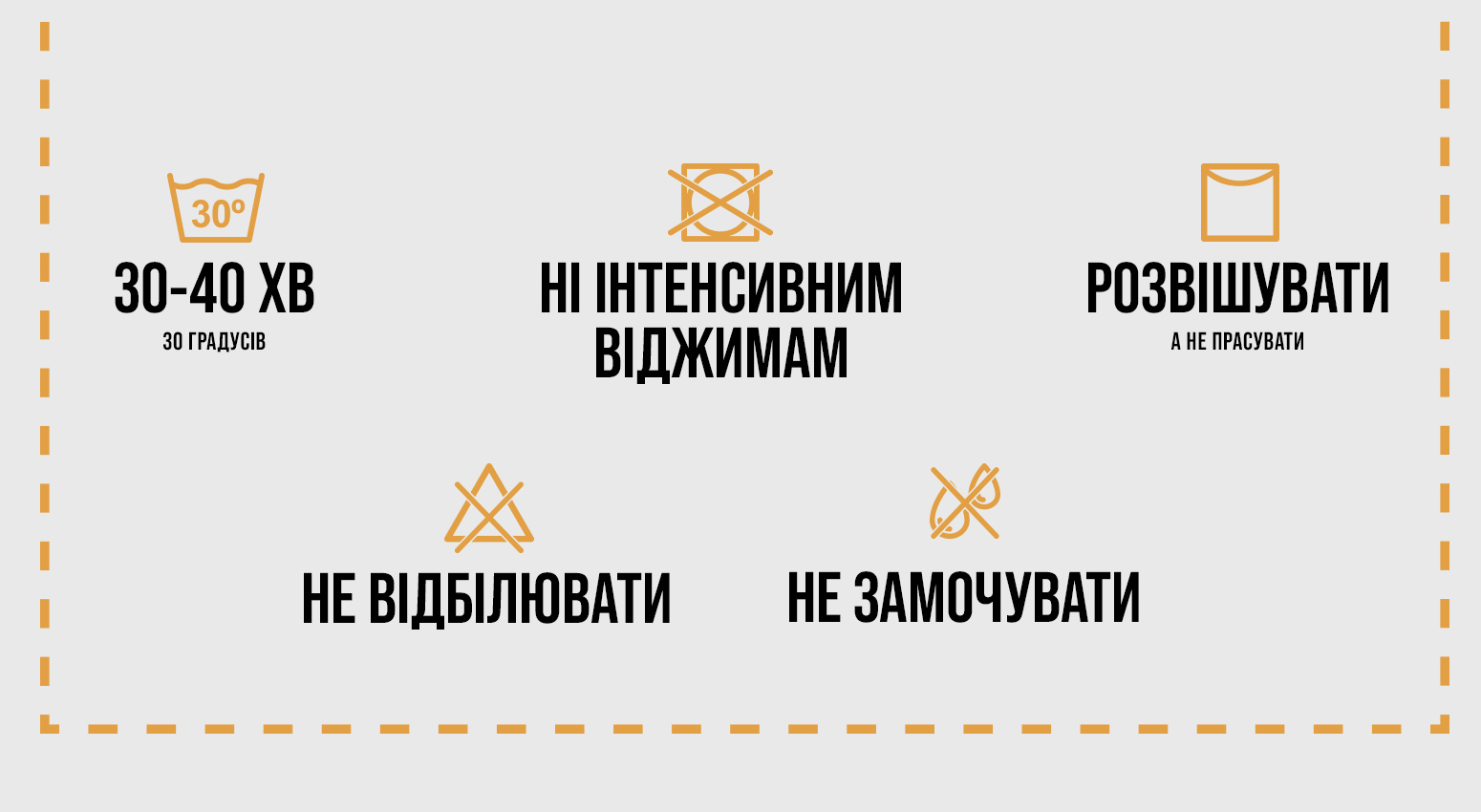 Generally, from the point of view of responsible attitude towards the environment (and careful attitude to fabrics), the recommendations are as follows: 
– wash at 30°C in short washing cycles (30-40 min). In this way, the fabric won't be affected by superfluous temperature impact, lose its color and shape. The prints and other decorative elements won't also get damaged or fade. 
– for the same reasons we also don't recommend using intensive machine spinning for the fabric fibers deform and get damaged faster during spinning.
– while ironing, a lot of electricity is consumed. Three-cord thread and two-cord thread fabrics are quite heavy so if you dry them flat, they become straight on their own. In terms of fleece, when ironing it carelessly, you can burn holes as synthetic material is extremely sensitive to temperatures, even to lower ones. So we don't recommend ironing it at all. Garments made of fleece can be simply hung and so there will be no wrinkles. 
– bleach has detrimental effect on warm colored garments; they leave stains on fabric and wash out the color. So if you want to preserve your garment, don't use it. If the trouble has already happened and you have made a greasy stain, we recommend using non-aggressive stain removers.
– do not presoak clothes and leave them wet in the washing machine after washing (especially those garments with prints and embroidery), as three-cord thread and two-cord thread fabrics are based on cotton which retains the colors worse than synthetic material. While presoaking the clothes, the color can fade. If the clothes stay wet for long time, the prints or leather elements of garment accessories can also get damaged. So it is better to apply non-aggressive stain removers directly onto the stains and then wash at 30°C as usual.
Keep in mind that three-cord thread fabric has certain minimum resistance to sparks or open flames but fleece garments, on the contrary, are completely non-fireproof. A single spark can burn a hole in fleece garments in a second. So if you want to take your kigurumi to a picnic to warm yourself in the evening by the bonfire, you'd better not – just leave it at home 🙂
 Take care of your clothes responsibly, and they will last longer 🙂