дитячий світшот

SKYCRANE

35$
Color

:

Please choose color

Size

Please choose size
Enter your email: We do not accept e-mails with .ru OK
Or enter the personal account.
Add to Cart
Shades of colors on your screen may differ from the color of the original.
Delivery costs are not included to the price and will be applied additionally.
Description and composition
The main fabric is tri-thread: 77% cotton, 23% polyester.
The fabric of the inserts is raincoat.
Image application technology: embroidery, chevrons.
Returns and exchanges
You can exchange or return the product within 14 days from the day of purchase. Look at the date for the reference on the delivery or store receipt (save it for this period) or in your personal account.
It is important that the quality appearance of the product is preserved. If the product shows signs of use, has no tags, is dirty (dust/dirt, animal hair, traces of deodorant or cosmetics), we will not be able to accept such a return or exchange.
To process an exchange or return, please read the details and fill out the form.
Payment and delivery
The minimum order amount is 300₴.
We process online orders from Monday to Saturday. The processing period for standard orders is up to 3 working days.
The goods that are on pre-sale are paid exclusively online.
Orders are delivered by Nova Poshta or Ukrposhta. Orders over 4,000₴ are delivered at our expense to a branch or post office of Nova Poshta or Ukrposhta in Ukraine. The cost of international delivery is calculated individually.
More detailed information is available here.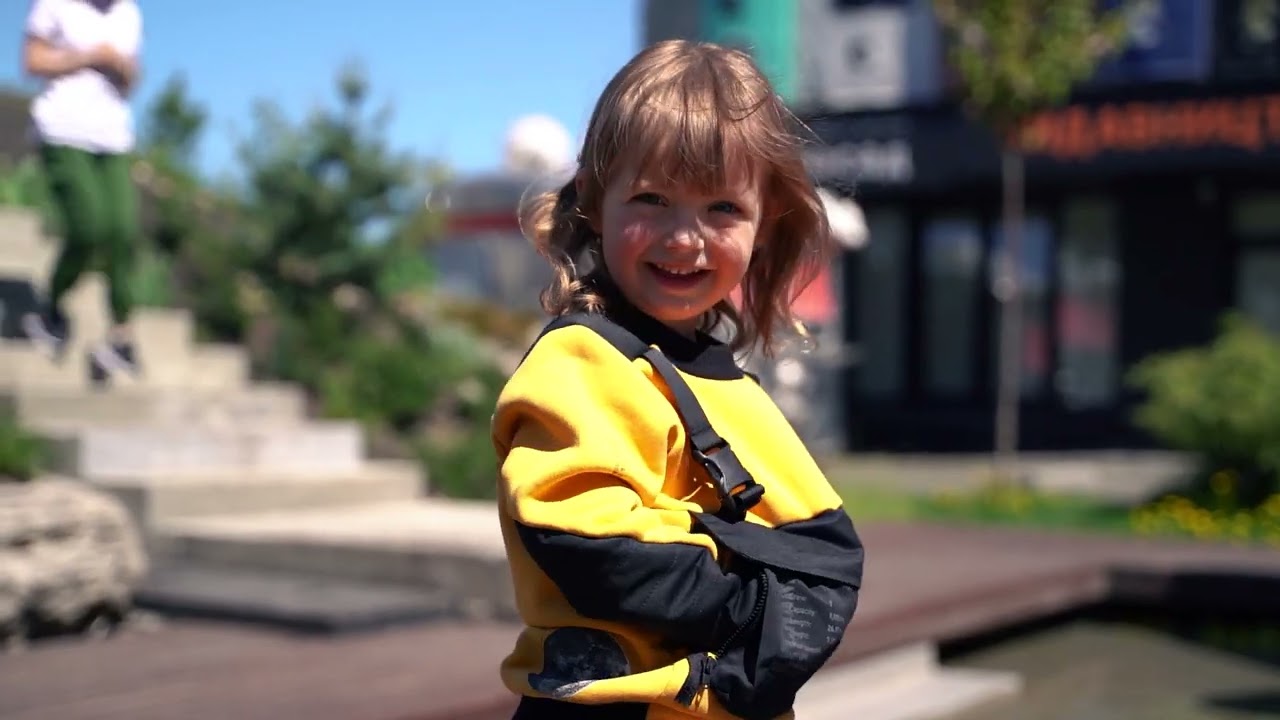 Children often imagine themselves as different things – cars, animals, fantastic creatures, or even planets. Now they can also imagine themselves as one of the most powerful cargo helicopters in the world, called the SKYCRANE. It was invented and constructed by our compatriot and one of the coolest aircraft designers of all time – Igor Sikorsky from Kyiv. We designed the sweatshirts for children in two colors, that will help the kids to accomplish the transformation. The sleeves and shoulders are strengthened in places that are usually most subjected to stretching and wearing out. It also has a huge cargo hold – a belly pocket made from dense fabric. The flap pocket has a Velcro closure. Below it is a hidden zip pocket for small and big secrets. The technical characteristics of the helicopter are printed on the belly. Decorative "straps" with fastex buckles coming from the shoulders provide a bigger "load capacity". Some more information about the SKY CRANE is on the sleeve. And on the back, the air giant is printed towing the whole moon behind itself. Under the flying crane silhouette, there's the inventor's name, and above it, our logo is embroidered in matching color.
This site uses cookies in order to provide services properly. Agree by continuing your visit on the website.