men's polo shirt

100 YEARS UA AVIATION

45$
Color

:

Please choose color

Size

Please choose size

XS

Not available

Last item in stock

items left

S

Not available

Last item in stock

items left

M

Not available

Last item in stock

items left

L

Not available

Last item in stock

items left

XL

Not available

Last item in stock

items left

XXL

Not available

Last item in stock

items left

XXXL

Not available

Last item in stock

items left
Add to Cart
Pique fabric: 100% cotton.
Technique of prints applied: embroidery, silkscreen printing.
Size worn by the model: М.
Height of the model: 182 cm.
The color shades on your screen may differ from the original color.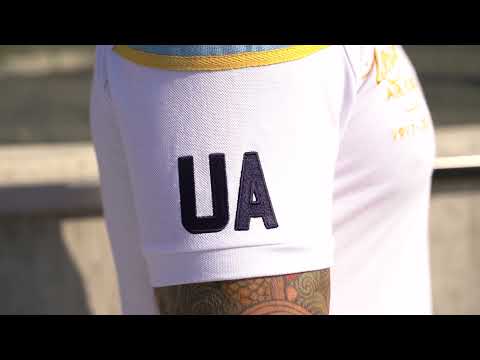 Men's polo created on the occasion of commemoration of 100 years of Ukrainian Aviation.
Dedicated to the Air Force, that starting from the early formations has been defending our sky up till now. As in the uniform of true pilots, there is a special loop for sunglasses below the buttons on the front. The front side is decorated with embroidery indicating the year of foundation of the Ukrainian Aviation as well as the year of commemoration of its centennial. On the back there is a three-dimensional embroidery with the image of number "100" and aircrafts: early aircrafts of Ukrainian Army and the ones used today.
On the right sleeve there is a patch "UA" so that everyone could be certain that the polo is created in Ukraine.
The upturned collar is decorated with the inscription of the air force of Ukrainian Galician Army "За волю України" ("For the freedom of Ukraine!"). Also, the coordinates of the contemporary location of the Ministry of Defense of Ukraine, 50 26'34.5″N 30 28'42.2″E, are imprinted on the polo shirt.
In addition to the loop for glasses, our polos have one more practical element borrowed from the military uniform — ventilators. These are special holes under the sleeves for comfortable wearing in summer time.
See more men's polo shirts in the catalog
Collection:
The Ukrainian Air Force was born long before the independence of Ukraine. It has a long and winding (somewhere complicated and even tragic) history of more than 100 years. It deserves t...
More about the collection
Other products in this collection:
This site uses cookies in order to provide services properly. Agree by continuing your visit on the website.