kids polo shirt

7 BRIGADE (PETRO FRANKO)

13$ - 26$
Color

:

Please choose color

Size

Please choose size

1-2 (80-92 см)

Not available

Last item in stock

items left

3-4 (93-104 см)

Not available

Last item in stock

items left

4-6 (105-115 см)

Not available

Last item in stock

items left

6-7 (116-122 см)

Not available

Last item in stock

items left

7-8 (122-128 см)

Not available

Last item in stock

items left

9-10 (129-140 см)

Not available

Last item in stock

items left

11-12 (141-152 см)

Not available

Last item in stock

items left
Add to Cart
Pique fabric: 100% cotton.
Technique of prints applied: embroidery, silkscreen printing.
The color shades on your screen may differ from the original color.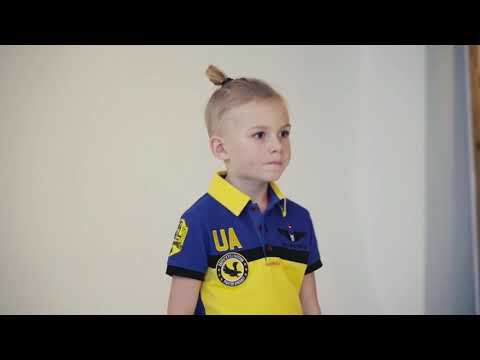 Kid's polo comfortable for fooling around, going to school or a kindergarten; it  is even suitable for a birthday party of your beloved grandmother. For all occasions of children's life.
In addition, it tells about "Plast" and a bit of history of Ukrainian Army.
In addition to our logo, there is a chevron with an attacking bird, i.e. the symbol of our defenders, on the chest.
A huge print "За волю України" ("For the freedom of Ukraine!") covers the entire back; the print is similar to what pilots once had on their aircrafts (one of the aircrafts, the Nieuport aircraft, is also depicted on the polo).
A lily, i.e. the symbol of "Plast", and the portrait of Petro Franko, the son of Ivan Franko, are depicted on one sleeve; a graceful bird with the Brigade's number is depiсted on the other sleeve.
On the back bottom there is a stripe with bombs that were once used by Ukrainian military pilots.
On the collar there is the military rank of Petro Franko and the exact coordinates of the Brigade's location (49°44'43'' N  27°16'09''E)..
On the bottom there are slits for comfort and a lion as a decoration; there are also ventilators for you not to perspire even during the most bustling games. 
See more kids' polo shirts in the catalog
Collection:
Who is Petro Franko? Is he somehow connected with the writer Ivan Franko? Why one of the aviation brigades of the Ukrainian Air Force is named after him? We tell everything here (and on...
More about the collection
Other products in this collection:
This site uses cookies in order to provide services properly. Agree by continuing your visit on the website.