men's sleeveless jacket

UKR FALCONS

82$
Color

:

Please choose color

Size

Please choose size

XS

Not available

Last item in stock

items left

S

Not available

Last item in stock

items left

M

Not available

Last item in stock

items left

L

Not available

Last item in stock

items left

XL

Not available

Last item in stock

items left

XXL

Not available

Last item in stock

items left

XXXL

Not available

Last item in stock

items left
Add to Cart
Fabric: 100% polyester
Filler: synthetic winterizer
Technique of prints applied: embroidery, silkscreen printing.
Size worn by the model: М.
Height of the model: 180 cm.
The color shades on your screen may differ from the original color.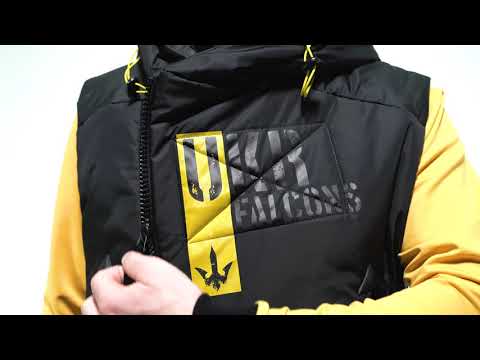 Ukrainian Falcons are not only about breath-taking air shows. They are also all about constant training and work, and not only in warm season. So, our comfortable and super warm men's sleeveless jacket would definitely come in handy. It has an oblique front zipper for comfortable fastening (or unfastening), a neat front contrasting print with the regiment's name "UKR Falcons" and a signature stylized trident. Deep warm pockets with fasteners and our designer innovation — SU-27 silhouette made with stitching (that's why it is sizeable).
We recommend washing items, but not often. If it's slightly soiled- just wipe with a damp clean cloth. After the season just washes the item at a temperature of 30 degrees. Please, do not bleach, boil, use tumble dry, and don't iron.
Collection:
Everyone enjoys watching air shows. We believe that such cool pilots and crews are far away, in YOUTUBE or TV. But actually, there is an aerobatic team that fascinates the whole world h...
More about the collection
Other products in this collection:
This site uses cookies in order to provide services properly. Agree by continuing your visit on the website.