men's polo shirt

12 BRIGADE (THE DRAGON SLAYER)

40$
Color

:

Please choose color

Size

Please choose size

XS

Not available

Last item in stock

items left

S

Not available

Last item in stock

items left

M

Not available

Last item in stock

items left

L

Not available

Last item in stock

items left

XL

Not available

Last item in stock

items left

XXL

Not available

Last item in stock

items left

XXXL

Not available

Last item in stock

items left
Add to Cart
Pique fabric: 100% cotton.
Technique of prints applied: embroidery, silkscreen printing.
Size worn by the model: M.
Height of the model: 180 cm.
The color shades on your screen may differ from the original color.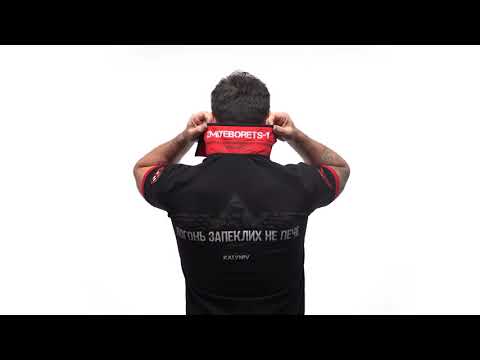 Simple and powerful men's polo "12th Brigade"; the one that can even support the morale.
There is an embroidered patch "UA" on the right part of the chest embroidery, and a helicopter MI-24 on the bottom.
The polo is designed in red and black colors; there is an inscription "Zmiyeborets" on the back side of the collar and base coordinates of the 12th Army Aviation Brigade in the town of Kalyniv in Lviv region (49°33'38''N 23°18'16''E).
On the back there is one more inscription "Вогонь запеклих не пече" ("The fire does not burn the Fiery") in capital letters – it looks like a battle cry of Ukrainian pilots.
One of our first polos released when being inspired with the new Ukrainian army.
We wanted the mood to be simple, strong, so that it could support the morale. Or give it to someone who needs it.
We placed the chevrons with our own design on the sleeves. The one on the left sleeve could be the emblem of the 12th Brigade (with three helicopters and a dragon). The ones on the right sleeve are the variation on a theme of a military decoration UGA (H – Halychyna).
Label "Proudly made in Ukraine" placed in the left seam is all about our pride of what we do. 
See more men's polo shirts in the catalog
Collection:
A unique helicopter brigade the crews of which are capable of almost everything. They have proved this many times: both during peacekeeping operations, firefighting and even eliminating...
More about the collection
Other products in this collection:
This site uses cookies in order to provide services properly. Agree by continuing your visit on the website.